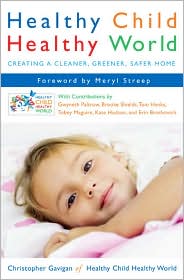 Sometimes I wish I could just stick my little peeps in a bubble (an organic cloth bubble of course) to keep them safe from the ever going list of dangerous products they are exposed to.
While I feel that using cloth diapers is a big step in the right direction, I know we can do so much more to ensure that we are providing our children the best chance for a healthy life. But, where to start? What is most important?
I came across
Healthy Child Healthy World
recently and find myself browsing through the site at least once day. It is packed with resources to help us make the best decisions for raising healthy children.
My Favorites:

The Five Easy Steps
Baby Care

Non-Toxic and Natural Products
The site is a wealth of information and I hope you benefit from it as much as I do. You can even share the ideas by hosting an informative
Healthy Home Party
! I'm going to check out the book,
Healthy Child Healthy World: Creating a Greener, Cleaner, Safer Home
at Barnes & Noble this week. I have to admit I have a quite the collection of parenting books I was convinced I HAD to have. There are just couple in my collection that I can say I have really read (and benefited from), but I believe this will be something I want in a pocket version!